Aggregate Saturday
I can't drink. Anymore. (the old joke does NOT apply. I can drink less).
Earlier this week I mourned the passing of Roger Nichols. I toasted him that night with six drinks. 3 Coors Lights (THAT'S NOT BEER my Brother-In-Law said once, spitting it out after a small taste.) and three shots of the "Hard Stuff." My idea of "Hard Stuff" is Applejack. My older son said "That's not hard stuff." He is right in this sense. It is only 45% proof.
I didn't really get drunk. But I did get a three day hangover. A really bad one. I guess my internal chemistry has changed or I have (!) outgrown booze. Six drinks would have been an appetizer in my salad days.
–
I wish I could remember how to do a long dash. If I wasn't already running running late (midnight before I was done with NASCAR fun) I would look it up.
–
I am late today. The imaginary goal for posting this waste of bandwidth is 7 AM. So cancel your subscription. Refunds are cheerfully given for the full purchase price.
–
I have written obits here for Michael Been of "The Call", Arthur C. Clarke and Roger Nichols. In every instance people (different ones) have offered me condolences for my "friend." I will take that as a compliment. I met Been once. Nichols never. Arthur C. Clarke? Nope. But I would and am thrilled to think we could have become friends.
–
I may have to go with an "Emergency Column" for the WEEKENDER this week. I have two salted away that are timeless. Not in the sense that they are any GOOD you understand.
–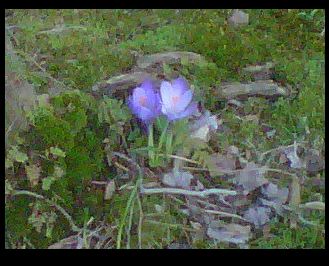 My Blackberry takes crappy pictures. But it is always ready and always there. Those little harbingers of Spring are on the Rising Ranch which gets late blooms. Only a few Daffodils and it won't be a good year for the forsythia.
–
By they way, the header picture above, which to me looks like some sort of modern art painting, is of the forsythia by the OLD shed which I tore down by using a hammer and a circular saw. I broke the chain saw on a nail. The picture is stretched out beyond real recognition because the size format of this WordPress blog was odd. But when I put it up I liked it. So there it remains.
–
WordPress spellchecker does not recognize becasue or because or becuase as wrong. Interesting.
–
This song and more importantly this video of it as done by the "Man in Black" literally haunted my dreams last night.
A fitting coda on this rainy day before the Resurrection.
Cancel my subscription. To the Resurrection.
-30-
The Rant D'Jour could have been a LOT funnier if I still smoked. Mon.
Good news Kid's. Apple jacks don't taste remotely like apples. In fact if…More
-30-