Tom Petty wrote:
"The waiting is the hardest part
Every day you get one more yard
You take it on faith, you take it to the heart
The waiting is the hardest part"
That is the mode we at the Rising Ranch are in now. The waiting…for the asparagus crop to come in.
About a mile from here a man sells the best asparagus in the free world and possibly in the known and unknown universe from a card table in his front yard. It's a pain in the ass his wife told me. Asparagus is a bitch to pick she let me know. He has to lie down prone on a conveyance (I think she said lawn tractor-I didn't quite get it) and pick the rows.
He then bundles the emerald green tender shoots with rubber bands and puts them in a cooler on top of a block of ice.
A bunch of plastic bags with ties, a sign that says: "Honor System. $3.50 each" and a small plastic receptacle with the days receipts complete the picture.
You can buy asparagus in the grocery store all year long. It's probably about the same price. It's not even nearly the same. I admit asparagus is an acquired taste. Either you like it or you don't. I hope you don't. I want all I can get. Plus, it makes your pee stink. Don't eat it. Vile, yucky stuff!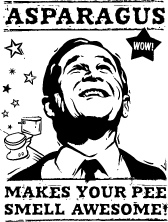 Around this time each year when my travels take me by the place I check for signs of asparagus. Each year the man who grows the delicious sprouts tells me he won't be doing it anymore. Too much work. Each year he relents and we get to enjoy the crisp, tender but crunchy vegetables of his labors.
Signs warn us that the green stuff is on sale. One by the Huntsville dam and one in front of the asparagus mans driveway. But a close watch is held in the beginning of May. The season is short. Just eight weeks or so and by the last part of June there will be no more.
I have engaged the asparagus man in conversations a few times in the years. Since I have a disease (laziness?) that prevents me from remembering names I can't call him by one. He has told me that he feels what he does, the magic that he pulls from the ground, washes off and sells in that worn cooler is a public service. I find it hard to argue with that.
This time of year, I must confess that my travels don't necessarily take me by the place where the asparagus is sold. But I go by anyway. The other day I flashed by only to turn around and take another run at it. I thought I saw the card table.
I did. It can't be long be now.
ED NOTE: When I plug the title into this WordPress my older son has set up a plug in that fetches me, via Google, appropriate images. "It makes your pee stink" yields a bumper crop of asparagus. Told ya.
-30-
The Rant D'Jour is about government. Cherry Pies. And SEX!
Do we really want the government counting cherries in our pies? Who doesn't like a nice thick slab…more
-30-