I put up the preceding to illustrate my point here. The rush of modern technology is amazing. Bewildering in fact.
Here's a closeup of that same shot.
What we are looking at is a press conference with two Washington VIP's.
Look at all those recording devices.
I couldn't identify them by brand or technology if you put a gun to my head.
I have been to more than my fair of pressers. I certainly don't recall all of them but I sure do remember the first.
Wilbur Mills came to Barre, Vermont and WSNO's terminally lazy program director was asked by CBS to record his presser. Lazy PD wanted no part of it so he foisted the job off on me.
I could have used one of the small reel to reels that the salesmen took out with spec spots on them.
But that offended my sense of professionalism. This was for CBS!
So I dragged out the stations one and only decent reel to reel:
It weighs 26 pounds.
So I humped this heavy recorder, several hundred feet of microphone cable, a small mixer and a pair of headphones to the auditorium where Mills was scheduled to speak. I got there an hour before the start time.
You remember Wilbur Mills, Right?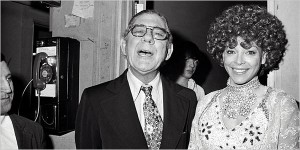 From Wikipedia:
Wilbur Daigh Mills (May 24, 1909 – May 2, 1992), was a Democratic member of the United States House of Representatives from the state of Arkansas. He was chairman of the House Ways and Means Committee in the 1960s, and briefly a candidate for President of the United States in 1972.
Mills was involved in a traffic incident in Washington, DC at 2 a.m. on October 9, 1974. His car was stopped by U.S. Park Police late at night because the driver had not turned on the lights. Mills was intoxicated, and his face was injured from a scuffle with Annabelle Battistella, better known as Fanne Foxe, a stripper from Argentina. When police approached the car, Foxe leapt from the car and jumped into the nearby Tidal Basin in an attempt to escape. She was taken to St. Elizabeth's Mental Hospital for treatment.

Despite the scandal, Mills was re-elected to Congress in November 1974 in a heavily Democratic year with nearly 60% of the vote, defeating Republican Judy Petty. On November 30, 1974, Mills, seemingly drunk, was accompanied by Fanne Foxe's husband onstage at The Pilgrim Theatre in Boston, a burlesque house where Foxe was performing. He held a press conference from Foxe's dressing room. Soon after this second public incident, Mills stepped down from his chairmanship of the Ways and Means Committee, acknowledged his alcoholism, joined Alcoholics Anonymous, and checked himself into Palm Beach Institute at West Palm Beach. He did not seek re-election in 1976, devoted his time to counseling individual alcoholics, and raising funds for alcoholic treatment centers, including one founded in his honor at Searcy, Arkansas, the Wilbur D. Mills Treatment Center for Alcohol and Drugs.
I'm gonna guess here that his talk in Barre Vermont was between incidents. It seems odd that CBS wouldn't have dispatched someone from the network to follow this slow motion accident of a man around. Go figure.
In any case I got the speech, shook hands with Wilbur about whom I recall absolutely nothing and lugged the stuff back to the radio station.
CBS had some onerous rules. I cut together a credible story with what we call a "wraparound" and fed it over the phone patch to New York but the tech said they needed the whole, raw speech, all 45 minutes of it. I made him call me back so the charge was on CBS.
Several months later at school in Boston I opened a letter with the WSNO return address. Inside was a check from CBS radio news for $75 made out to Jim Risinger. And a note from my brain damaged PD saying the bank would probably cash it.
I was torn between keeping it as a memento and spending it on cheap wine.
You may guess which impulse won.
The Rant D'Jour asks a question about the "War on Drugs."
Sometimes it seems like the war on drugs is being fought by people on drugs. Now there are…more
-30-