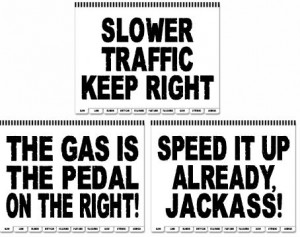 I have spoken about road rage here pretty often. Often enough so that some of my friends suggest that get over it already. That's why I was so happy to see that not only am I not alone in this feeling of wanting to choke the life out of the moron in the other lane but that someone has actually done something to step up the war against highway stupidity.
Now I don't personally think this is a good idea. I certainly don't have the scrotum big enough to use this product. But for those of you so gifted here is the answer you have been seeking. Road Rage Cards. Now this may not be a new invention, as matter of fact I remember seeing something like it years ago. Back then you had a message on some sort of stick and you held it up for the offending driver to see. Road rage cards have brought this to a new level. On 43, 8 by 11 cards that the makers claim you can see from 25 feet away there are nearly 50 different, uhhh, suggestions for nearby motorists. And in a striking bow to technology all the messages are also printed in reverse so you can inform a driver in front of you of your displeasure and he can read it in his rear view mirror.
The messages run the gamut of things you have always wanted to say to other drivers. Get out of the fast lane…learn how to drive, moron, wake up, pay attention, the gas pedal is on the right…gee it seems like they must have taped my conversations. The signs also use certain words to call attention to the messages. You know the words. Rhymes with truck and hit and so on.
A few of the cards are a little over the top. One features a picture of a gun and the words I wish this was real. I think that might be a not so bright one to hold up now a days.
As a matter of fact the makers of road rage cards …19.99 plus shipping suggest strongly on their website roadrage.com
THE "ROAD RAGE CARDS" ARE INTENDED SOLELY FOR ENTERTAINMENT PURPOSES AND ARE MEANT MERELY TO BE HUMOROUS. ACTUAL USE OF THE ROAD RAGE CARDS, WHETHER BY POSTING SUCH CARDS ON CAR WINDOWS, REPEATING STATEMENTS IN SUCH CARDS TO OTHERS OR ANY OTHER USE IS AT YOUR SOLE RISK AND IS NOT RECOMMENDED OR ENDORSED BY US OR OUR PROVIDERS. THE ROAD RAGE CARDS MAY BE DEEMED HARMFUL OR OFFENSIVE TO OTHERS AND MAY GIVE RISE TO PHYSICAL OR VERBAL RETALIATION, WHICH MAY RESULT IN INJURY OR EVEN DEATH. USE OF THE ROAD RAGE CARDS WHILE DRIVING MAY DISTRACT USERS OR TARGETS OF SUCH USE, WHICH MAY CAUSE DRIVING ACCIDENTS, WHICH MAY ALSO RESULT IN INJURY OR DEATH.
Sounds to me like the lawyers got involved.
-30-