Radio DaZe: Charlestown and management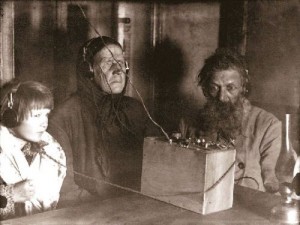 I had never been a manager of anything before. Even in school, at college, I chose to remain in the background. My friends at the college radio station pushed me to become a director of something. I demurred. I wanted to play records and talk on the radio. I was still very much having problems with authority. Anyone who told me what to do or disagreed with me, basically.
Now I was in charge. It seemed to come natural to me. I didn't fool myself into thinking I was covering all the bases that I would have to in the future. But the place was on the air, the DJ's showed up on time (for the most part) and the new owners seemed OK.
With the move out of the Dubaneviches we had now changed domiciles six times and had been married just over a year. I had learned how to carry big things. Up stairs. I moved us to the little second floor walk up in Charlestown N.H. basically by myself. Edna was still recovering from childbirth and I really had no choice.
We had inherited an old convertible sofa bed (which had been the temporary sleeping arrangements for several of my new hires) and it was heavy and obstinate about being a sofa. It wanted to be a bed. It would open up like a jack-in-a-box when being carried. I tried to wrestle it down the outside staircase by myself but it was hopeless. The front of the apartment had a porch so I had the bright idea of tying a rope to the fiendish contraption and lowering to the sidewalk below. Naturally a third of the way down it exploded into bed mode, I lost my grip and it went crashing to the sidewalk below, nearly taking out a landlord or two. It was like something out of a cartoon. That I was convulsed by laughter probably didn't help the situation any. I think back and wonder that my polish ex-landlord didn't call the law.
In the interim I had made several hires. In those days you put ads in the trade magazines, spread the word to other PD's (maybe they had someone in their market they wanted out) and then looked at resume's and listened to audition tapes. My first bonafide hire was a guy named Jerry Palmitere. You always remember your first. Jerry was working the overnight shift at the American Can Company in California. He had some experience part-time on small stations out there. On paper he looked OK. But his audition tape was good. When listening I looked for several things. First, was the tape "real", was it an actual off-air recording, an "aircheck". I could tell if it had been made in the production studio, which to me was cheating. Anybody could make a great sounding tape in the leisurely environment of the recording studio. I wanted people who sounded great live, on the fly. Jerry had that quality and as a bonus he had great "pipes", a deep, rich, baritone voice.
Plus he would work for peanuts, which is exactly what I had to offer in terms of salary.
The new General Manager, Scott McQueen, took over the final interview and negotiation process. That was OK by me, because if it blew up I wanted the blame to be shared. I'll never forget his reaction to Jerry.
"He yawned three times during the interview," McQueen said. What a hard-ass he was.
"What time did you call him?" I asked.
"About ten am." he said.
"7 am his time after he worked all night. Wonder why he was tired," I shot back. Boy, I was already smooth with management.
"Well?" I said. Seething. I was to learn to control my emotions better. But now this was a key moment to me. I HAD to win.
"I guess he will do. If he shows up." McQueen had a sales-persons natural distrust of DJ's. It goes both ways.
I just looked at him. "Of course he will show up. He wants to be on the radio."
Jerry became "Mike Evans" and did indeed show up for the job and on time for work every day. I think back about him sometimes. A young guy, single, moving across the country with every thing he owned in his car. He was coming from Southern California to New England to a tiny town that was small even by Vermont standards. Such was the allure of a radio job in those days.
A while back Jerry emailed me. We had lost touch over the years which is part of the business. Sometimes you don't keep up with people or get too close, like soldiers in wartime. Jerry wrote and asked if I remembered him. I assured him I did. He went on to tell me he had enjoyed a long career in radio and always was grateful for me giving him his first job in radio. "Thanks for taking a chance on me," he said. He never knew how reluctant the GM had been.
In a strange twist of fate I had also hired Larry Cohen to be the news director (yes, stations had such things back then) and he and I renewed our friendship. Larry was an excellent news guy. With a big round voice and his towering presence he covered the hell out of what news there was in Springfield Vermont.
Springfield probably is now best known for being the Springfield that held the premiere of the "Simpsons Movie" in 2007. In 1974 the population was probably about what it is today, 9,000. When I moved across the Connecticut river to Charlestown I gave the idea not much thought. I had found a cheap apartment that seemed OK, and a landlord who would just take the first months rent in advance and relax about a security deposit and last month in front.
Charlestown had about 5,000 souls. In between it and Springfield was the Cheshire Toll bridge. Amazing but true some mercenary fellows back in 1897 noticed that there was no way to cross the river and built the first of several bridges in that spot and put their hands out. I paid the reduced resident rate in 1974, you bought tokens for 15 cents each, but if you forgot them it was 35 cents to cross the river.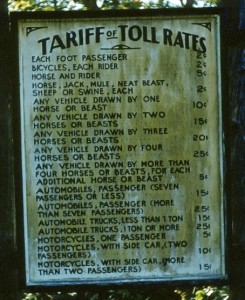 Larry lived "up river" in Claremont N.H. but Edna and I had only one car so Larry had to pick me up on his way into work. I paid the toll but I don't think I ever offered to help out on gas. First of many tensions that would develop between Larry and me.
But in the beginning it was all good. I was doing a morning radio show on a 5,000 watt blowtorch AM station.
Let's take a look at something I wrote about those rides in the early morning hours:
We first met some 30 years ago. I was a youngster just getting my feet wet in my chosen profession. Every morning while I headed into work we would spend the drive together. I learned a lot. The things I was taught just by listening lasted me a lifetime. I was a country boy in the wilds of Vermont. This was a big city powerhouse that just reeked of professionalism. This was my first job right out of college. If I recall correctly I was paid the princely sum of $85 a week. I know that I worked far more than 40 hours back then so my hourly rate was probably well under $2. But my new friend made me sure that better times could be at hand. I thought to myself as I listened and learned that someday, maybe someday I would be good enough to be on the air at WARM.

Because, you see, WARM was legendary in those days. Hundreds of miles and several states away I heard the booming signal of 590 in my crappy car as I headed to my crappy low paying on air gig. I am going to use a radio term. WARM came into Springfield Vermont like a "Local." It was one of those huge flamethrower radio signals that blanketed the country. For various reasons we will never see it's like again.

But more than just a huge coverage area WARM was, for a radio guy, the ultimate in professionalism. Listening in the small farm community in Vermont I learned what big time slick radio sounded like. It seemed that WARM did everything right. The news was crisp and authoritative. The music was spot on. The disc jockeys sounded, well, they sounded warm. Friendly and funny and like you had a friend in your car. It was something to aspire to.

A few years later I moved to this place. I would like to say it was to work at the legend. Instead it was my mission to put the legend out to pasture. The station I put on the air in 1980 knocked WARM out of first place in very short order but truth be told the wheels had already started to come off. FM was eating AM's lunch. I was just in the right place at the right time. Not that it wasn't heady stuff at the time. WARM was on life support by the end of the 80's and if it was a horse it would have been shot by the new millennium. And now it's gone. Not worth fixing say the fat cat owners who pulled the plug. Another radio term. WARM is now "dark." Kind of says it all.
ED NOTE: WARM is still on the air. Limping and badly wounded with a fraction of it's former signal and carrying a satellite delivered oldies show.
It's a medium sized lot that is never full but gets crowded in front of the business I frequent. Why does this person who parks every day ignore…more
-30-