Somehow this makes perfect sense.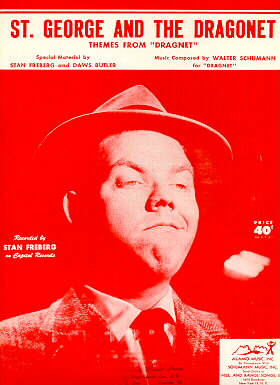 The number one song in the land on my birthday was a spoken word parody by the great Stan Freberg.
"St. George and the Dragonet" a #1 hit for four weeks in October 1953
"St. George and the Dragonet" is a short audio satire recorded August 26, 1953 by Stan Freberg for Capitol Records. It was released September 21, 1953 as a 45 rpm single (Capitol F2596).

Scripted by Freberg and Daws Butler, the spoof combined the tale of "St. George and the Dragon" with the popular 1950s radio-TV series Dragnet. The recording was a #1 hit, selling over one million copies in the first three weeks. The cast featured Freberg, Butler, June Foray and Hy Averback.

Freberg wanted to use the original Dragnet opening theme music by Walter Schumann. Capitol Records insisted he get the permission of Dragnet star and creator, Jack Webb. Being a Freberg fan, Webb liked the idea, approved the use of the theme and allowed Freberg to use the same orchestra from the Dragnet series with Schumann conducting.[1] The recording had to be restarted several times because the trombone players were laughing so hard at the jokes that they were unable to play their instruments. Schumann's music was issued on sheet music with a front cover photograph of Freberg (minus his glasses), a humorous close-up with noir lighting as if it were a still from Dragnet.
http://en.wikipedia.org/wiki/St._George_and_the_Dragonet
Freberg also produced this:
Daws Butler did the other voice in the famed "Lake Michigan" skit.
This was part of the reason I got into radio. I always loved the line "Try doing that on Television"-kind of summed up why radio had such appeal for me.