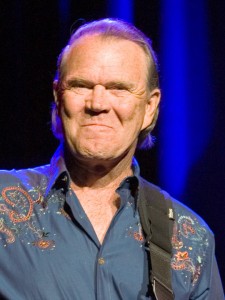 I grew up, as much as I have, playing Glen Campbell's songs on the radio. I remember him on the "Smothers Brothers Show" and his own insipid TV show, The Glen Campbell Goodtime Hour and when I think on him I always get this song in my head:
It was a tune that was composed by John Hartford but owned by Campbell.
He was a hell of a guitar player, he was part of the studio musicians clique known as "the Wrecking Crew", many of whom went from session to session together as the same group. In addition to Campbell, it featured Hal Blaine on drums, Tommy Tedesco on guitar, Leon Russell on piano. He filled in for Brian Wilson of the Beach Boys in the 60's while they were on tour and Brian preferred to stay in his sandbox.
Campbell has Alzheimer's and bravely or stupidly depending on who you ask, is on his "Goodbye Tour", a maudlin exercise if there ever was one, made noble if only by the fact that he has his children as his backup band.
Alzheimer's is called "The long goodbye" with good reason, but this feels like I am writing an Obit.
Campbell was not always a nice guy, In 1980-81 he had a stormy relationship with then 21-year-old country star Tanya Tucker (He was 45) and on November 24, 2003, Campbell was arrested on drunk driving and hit-and-run charges. He left the accident scene but was later arrested at his nearby home. After he was booked into a Maricopa County lockup, Campbell kneed a sergeant in the thigh, for which he was charged with aggravated assault on a police officer, a charge that was later dropped.
But he was a talented musician and a smooth singer.
Here he is with Jerry Reed. The banjo player in the beginning is John Hartford:
Last June, Glen Campbell announced that he had Alzheimer's disease, and on Saturday night he came to Town Hall as part of what was billed as the "Goodbye Tour." Everyone in the room understood. The faithful, reverent crowd appeared not to mind that for much of the show Mr. Campbell was reading lyrics from prompters that had been set between the monitors at the foot of the stage.
http://www.nytimes.com/2012/01/09/arts/music/glen-campbells-goodbye-tour-at-town-hall-review.html