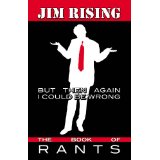 But Then Again I Could Be Wrong: The Book of Rants (humorous tales from Scranton Wilkes-Barre Pennsylvania writer for The Weekender)
Gee … I always wanted to write a book. I never thought I would but then again I could be wrong. Here is a collection of some of the rants that were broadcast on WDMT 102.3 The Mountain as part of my show Rising at Ten.
Some of these were published in my column in the WEEKENDER and some have never seen the light of day.
I am offering you the book for free. All you have to do is pay $1.50 for the shipping. Due to Pay Pal issues it will appear that you are paying for the book, but rest assured it's just for the shipping.
Why am I doing this?
Two reasons: First off, you are a regular reader of this blog. You will probably enjoy the early efforts of the author.
And secondly I have a new book in the the works and I want you to see some of it.
Thanks for reading.