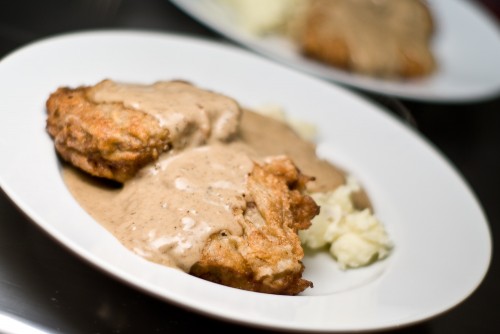 Lawrence Russell Brewer selected a large final meal but didn't eat it.
Read more: http://www.kfdm.com/articles/meal-44877-final-inmates.html#ixzz1YluOyhMy
According to Texas Department of Criminal Justice spokeswoman Michelle Lyons, Brewer selected:
*Two chicken fried steaks smothered in gravy with sliced onions
*A triple meat bacon cheeseburger with fixings on the side
*A cheese omelet with ground beef, tomatoes, onions, bell peppers and jalapenos
*A large bowl of fried okra with ketchup
*One pound of barbecue with half a loaf of white bread
*Three fajitas with fixings
*A meat lovers pizza
*Three root beers
*One pint of Blue Bell vanilla ice cream
*A slab of peanut butter fudge with crushed peanuts
Brewer, a white supremacist gang member, was convicted of chaining James Byrd Jr. , 49, to the back of a pickup truck and dragging him to his death along a bumpy road in a case shocked the nation for its brutality.
Last meal requests by notable prisoners (According to Wikipedia):
This represents the items reported requested but does not, in all cases, represent what the prisoner actually received.
Adolf Eichmann declined a special meal, prefering a bottle of Carmel, a dry red Israeli wine. He drank about half of it.
Aileen Wuornos declined a special meal, but had a hamburger and other snack food from the prison's canteen. Later, she drank a cup of coffee.
Allen Lee Davis: 350-pound "Tiny" Davis had one lobster tail, fried potatoes, a half-pound of fried shrimp, six ounces of fried clams, half a loaf of garlic bread, and 32 ounces of A&W root beer.
Andrey Chikatilo: porridge with a small piece of beef.
Ángel Nieves Díaz declined a special meal. He was served the regular prison meal for that day, but declined that as well.
Barton Kay Kirkham: Pizzas and ice cream, "because you get cheese, meat and everything in one meal. Not so much fuss.
Bruno Richard Hauptmann: Celery, olives, chicken, French fries, buttered peas, cherries, and a slice of cake.
Charles Peace: A breakfast consisting of eggs and a large amount of salty bacon.
Clarence Ray Allen: Buffalo steak, Kentucky Fried Chicken, sugar-free pecan pie and sugar-free black walnut ice cream.
Danny Rolling: Lobster tail, butterfly shrimp, baked potato, strawberry cheesecake, and sweet tea.
Dennis Wayne Bagwell: Medium rare steak with A1 Steak Sauce, fried chicken breasts and thighs, BBQ ribs, French fries, onion rings, bacon, scrambled eggs with onions, fried potatoes with onions, sliced tomatoes, salad with ranch dressing, two hamburgers, peach pie, milk, coffee, and iced tea with real sugar.
Desmond Keith Carter declined a special meal, but had two cheeseburgers, a steak sub, and two Cokes from the prison canteen, for which he paid $4.20 from his prison account.
Dobie Gillis Williams: Twelve candy bars and some ice cream.
Edward Hartman: A Greek salad, linguini with white clam sauce, cheese cake with cherry topping, garlic bread, and a Coke.
Eric Wrinkles: Prime rib, a "loaded" baked potato, pork chops with steak fries, rolls and two salads with ranch dressing, served three days before execution because Indiana State Prison found that condemned inmates tend to lose their appetite near the end.
Francis Crowley: Steak and onions, french fries, apple pie, ice cream and melted ice cream.
Gary Gilmore: A hamburger, hard-boiled eggs, a baked potato, a few cups of coffee, and three shots of contraband Jack Daniel's whiskey.
Gary Lee Davis: Chocolate and vanilla ice cream cups, shared with the prison superintendent and a manager.
Gary Michael Heidnik had two slices of a cheese pizza and two cups of black coffee.
Gordon Fawcett Hambly, who suffered from indigestion, a lobster salad.
Henry Martinez Porter: Flour tortillas, T-bone steak, refried beans, tossed salad, jalapeño peppers, ice cream, and chocolate cake.
Ignacio Cuevas, perpetrator of the 1974 Huntsville Prison Siege – Chicken dumplings, steamed rice, sliced bread, black-eyes peas, and iced tea.
James Edward Smith requested a lump of dirt, which was denied. He settled for a small cup of yogurt.
Joan of Arc: Holy communion.
John Albert Taylor: Pizzas "with everything."
John Allen Muhammad: Chicken with red sauce and several cakes.
John David Duty: A double cheeseburger with mayonnaise, a foot-long hot dog with cheese, mustard and extra onions, a cherry limeade, and a large banana shake.
John Wayne Gacy: A dozen deep-fried shrimp, a bucket of original recipe chicken from KFC, French fries, and a pound of strawberries.
Joseph Mitchell Parsons: Three Burger King Whoppers, two large orders of fries, a chocolate shake, chocolate chip ice cream, and a package of grape Hubba Bubba bubblegum, to be shared with his brother and a cousin.
Judd Gray: Chicken soup, chicken, mashed potatoes, celery, stuffed olives and ice cream.
Karl Eugene Chamberlain: A variety of fresh fruit and vegetables, cheese, lunch meat, deviled eggs, six fried cheese-stuffed jalapeños, a chef salad with ranch dressing, onion rings, french fries, a cheeseburger, two fried chicken breasts, barbecue pork rolls, an omelet, milk, and orange juice.
Karla Faye Tucker: Banana, peach, and garden salad with ranch dressing.
Keith Zettlemoyer: Two cheeseburgers, fries, chocolate pudding and chocolate milk.
Lawrence Russell Brewer: Two chicken fried steaks smothered in gravy with sliced onions; a triple meat bacon cheeseburger with fixings on the side; a cheese omelet with ground beef, tomatoes, onions, bell peppers and jalapenos; a large bowl of fried okra with ketchup; one pound of barbecue with half a loaf of white bread; three fajitas with fixings; a Meat Lovers pizza; three root beers; one pint of Blue Bell vanilla ice cream; and a slab of peanut butter fudge with crushed peanuts. Brewer's request was granted, but he refused the meal when it arrived, prompting Texas to stop granting last meal requests to condemned inmates.
Lowell Lee Andrews: Two fried chickens with sides of mashed potatoes, green beans and Pie a la Mode.
Mark Dean Schwab: Fried eggs (over easy), bacon, sausage links, hash browns, buttered toast, and a quart of chocolate milk.
Martha Beck: Fried chicken, fried potatoes and salad.
Michael Bruce Ross (of Connecticut) declined a special meal, but dined on the regular prison meal of the day: turkey à la king with rice, mixed vegetables, white bread, fruit, and a beverage.
Murl Daniels: Orange juice, grape juice, fried chicken, fried oysters, chili, potatoes, Limburger cheese, bread and butter, vanilla ice cream with chocolate syrup, chocolate cake and coffee.
Perry Smith and Richard Hickock: Shrimp, French fries, garlic bread, ice cream, and strawberries with whipped cream.
Odell Barnes: "Justice, Equality, World Peace."
Peter Kürten: Wiener schnitzel, fried potatoes and a bottle of white wine. He requested seconds and received it.
Philip Workman: He declined a special meal for himself, but he asked for a large vegetarian pizza to be given to a homeless person in Nashville, Tennessee. This request was denied by the prison, but carried out by others across the country.
Rainey Bethea: Fried chicken, pork chops, mashed potatoes, pickled cucumbers, cornbread, lemon pie, and ice cream.
Ricky Ray Rector: Steak, fried chicken, cherry Kool-Aid, and a pecan pie. He did not eat the pie because he said he was saving it for later.

Robert Alton Harris: A 21-piece bucket of Kentucky Fried Chicken, two large Domino's Pizzas (no anchovies), ice cream, a bag of jelly beans, a six-pack of Pepsi, and a pack of Camel cigarettes.The pizza was actually from Tombstone Pizza, per the stipulation of Vernell Crittendon.
Robert Dale Conklin: Filet mignon wrapped in bacon, de-veined shrimp sauteed in garlic butter with lemon, a baked potato with butter, sour cream, chives, and real bacon bits, corn on the cob, asparagus with hollandaise sauce, French bread with butter, goat cheese, cantaloupe, apple pie with vanilla bean ice cream and an iced tea.
Ronald Clark O'Bryan's last meal request consisted of a T-bone steak (medium to well done), french fries with ketchup, whole kernel corn, sweet peas, a lettuce and tomato salad with egg and French dressing, iced tea, sweetener, saltines, Boston cream pie, and rolls.
Ronnie Lee Gardner: Lobster tail, steak, apple pie, vanilla ice cream, 7-Up, and watching The Lord of the Rings film trilogy.
Ruth Snyder: Chicken Parmesan with alfredo pasta, ice cream, 2 milkshakes, and a 12-pack of grape soda.
Saddam Hussein: The Times states that "he refused their offers of cigarettes and a last meal of chicken." Other sources state a variety of meal options.
Stephen Wayne Anderson: Two grilled cheese sandwiches, one pint of cottage cheese, a hominy/corn mixture, one piece of peach pie, one pint of chocolate chip ice cream, and radishes.
Stephen Woods: Two pounds of bacon, a large four-meat pizza, four fried chicken breasts, two drinks each of Mountain Dew, Pepsi, root beer and sweet tea, two pints of ice cream, five chicken fried steaks, two hamburgers with bacon, fries and a dozen garlic bread sticks with marinara on the side.
Ted Bundy declined a special meal, so he was given the traditional steak (medium-rare), eggs (over-easy), hash browns, toast, milk, coffee, juice, butter, and jelly.
Teresa Lewis: Two fried chicken breasts, sweet peas with butter, a Dr. Pepper and German chocolate cake for dessert.
Thomas J. Grasso two dozen steamed mussels, two dozen steamed clams, a double cheeseburger from Burger King, half-dozen barbequed spare ribs, two strawberry milkshakes, half a pumpkin pie with whipped cream with diced strawberries and a 16-ounce can of spaghetti with meatballs, served at room temperature. He later complained ""I did not get my SpaghettiOs, I got spaghetti. I want the press to know this."
Timothy McVeigh: Two pints of mint chocolate-chip ice cream.
Velma Barfield declined a special meal, having a bag of Cheez Doodles and a 12-ounce can of Coca-Cola instead.
Victor Feguer requested a single olive with the stone still in.
Wesley Baker: Breaded fish, pasta marinara, green beans, orange fruit punch, bread, and milk (this was what was on the prison menu that day).
William Bonin: Two pepperoni and sausage pizzas, three servings of chocolate ice cream, and three six-packs of Coca-Cola and Pepsi .