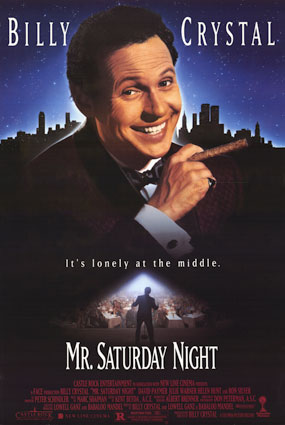 Tuesday Review: Mr. Saturday Night 1992 R 118 minutes
It's odd how you stumble into watching a movie sometimes. I was watching an episode of "The Larry Sanders Show" and the guest was Billy Crystal. He was pissed at Larry because he wasn't plugging his "New" movie "Mr. Saturday Night".
I don't know if it's just internet voodoo, some sort of sinister SEO or just coincidence, but the Netflix Top Ten for James showed this as my number one choice.
So what could I do? Don't get me started.
I believe this was Bill Crystal's directorial debut and if it was it was excellent. Of course the material and the character wasn't exactly stretch for Crystal but he inhabited Buddy Young so perfectly that you could swear he was real.
The movie follows the life and career of comedian Buddy Young Jr. Think Don Rickles with a mean streak, if you can imagine that.
Of course Buddy is just a creation of Crystal's fertile mind, with him sharing writing nods with the team of Lowell Ganz & Babaloo Mandel (Parenthood, Robots) but you almost feel like Goggling him to see what he really looked like.
David Paymer does a sincere job as Stan, Young's under-recognized agent brother. There are some really touching scenes between the two as they come to grips with what their relationship and their lives are about.
The other stand out is Helen Hunt as Annie Wells, Young's new talent agent after his brother leaves for Florida. She is the perfect foil for Young's steamroller approach even after a slow start.
It won no awards, and did little box office, probably because people were thinking they were going to see a comedy. While the movie did have it's funny moments it was more than anything a moving drama about a guy who wanted it all but who kept getting in his own way.

Trailer provided by Video Detective
-30-