Picture this: Swing and a miss.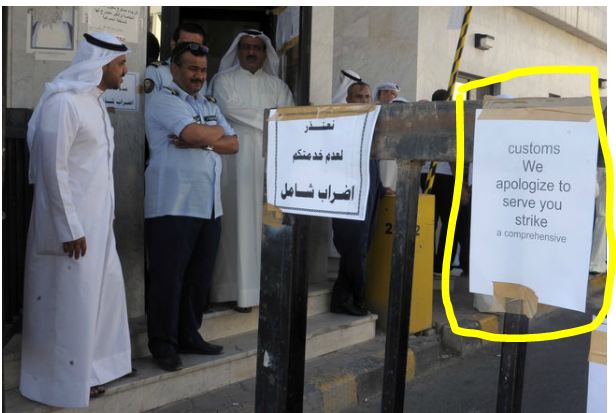 The real story (below) Has nothing to with the sign I have highlighted in yellow. I just can't figure out exactly what the hell they were trying to say. If they had someone who needed to read this in English I doubt they got much from it.
http://www.nytimes.com/2011/10/11/world/middleeast/customs-officers-strike-in-kuwait-halting-oil-shipments.html
Three thousand striking customs officers disrupted oil shipments from Kuwait on Monday, escalating the labor unrest that has been gaining momentum in recent weeks in the emirate.
Demanding higher wages and better working conditions, the workers refused to give customs clearance to as many as five tankers loaded with oil for export, and said their strike would continue indefinitely. The Kuwait Times reported that the state petroleum company was scrambling to find other port workers who were not taking part in the strike to complete the customs paperwork for oil shipments.