Tuesday Review – Hell On Wheels.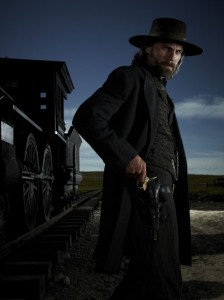 I was a BIG fan of Deadwood. Boy was I pissed off when they just up and killed that show.
Having said that, Deadwood, with it's pervasive profanity and occasional porn like moments, was a tough show to watch. Especially if there was anyone else in the range of the audio track who didn't care for swearing. This little link FPM will give you an idea what I am talking about. It's the F's per minute in Deadwood. Impressive.
I preface this review of Hell On Wheels (AMC- Sunday night, 9 PM ET) with this because the shows are brother and sisters, sort of. The same gritty realism, the same shot through a camera lense coated with amber, the same general plot lines. It rings very similar and is a big part of why I enjoy it so much.
Hell On Wheels is set in the wild west of 1865. The railroad is trying to move west and the crew of roughnecks who clear the road (blacks) and lay the tracks (whites, mostly Irish) and lay the women are the focus of the story. The language is toned down from the standpoint of Deadwood and the sex is mostly insinuated (just why is the whores' head bobbing up and down in the background?) not graphic.
The subplot revolves around the former Confederate soldier, Cullen Bohannon (Anson Mount) who is on the search for the Union soldiers that killed his wife. Along the way he convinces the railroad boss man Thomas "Doc" Durant (Colm Meaney) to make him the supervisor. He is distracted by his search and does only a passable job of it. Meanwhile the pretty widow Lily Bell (Dominique McElligott) is the only survivor of a Cheyenne attack and has her husband's last survey papers which Durant wants, desperately.
Lonnie Rashid Lynn, Jr., better known as Common, plays bi-racial Elam Ferguson, a recently freed slave who is the straw boss of the cut gang who clear the way for the tracks. Ferguson and Bohannon do not get along to put it mildly.
So there you have it, loads of conflict and intrigue. Stir in the many colorful characters such as Christopher Heyerdahl playing The Swede who is riviting, the multitude of whores and desperate and dirty men and you have the base of the show.
One of the stars is of course the setting. The T'suu T'ina Native Indian Reservation, an Indian reserve in southern Alberta, was the location for most of the exteriors and the depiction of the slime, slop and horse shit that were everyday obstacles lacks only the smell. True Grit this is not.