Tuesday Review:
Prodigal Sons
2008 NR 86 minutes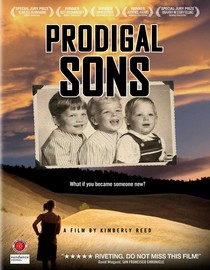 Directed by and features Kimberly Reed who is a transgendered female. In some ways this film is like a reality TV show and in others it is Cinéma vérité, which according to the definition is "truthful cinema."
The basic story being told is Reed's first visit back to her home town as a woman. The camera follows her as she attends her high school reunion and reconnects with her family. Situations and background are filled in by Reed, sometimes face to face with the camera, sometimes in voiceovers.
At first the issues being examined are what you would expect. What Reed is feeling. How the people in her hometown of Helena, Montana feel about her. Why the football hero chose to change gender. In flashbacks and photos her former life is revealed and we are shown the pain and why her soul searching led her to become the person she is now.
As the film progresses another story emerges, that of her brain-damaged adopted brother, who discovers he is a blood relative of some very famous people. The conflicts between Reed and the brother are what make the film feel most like reality TV, but unlike Survivor or Big Brother this is not scripted and the outcome is far from expected.
The film examines sexuality, male and female roles and gay issues with a non-salacious touch. Where it could easily have been sleazy and titillating it is instead just honest. Prodigal Sons looks hard at a hugely dysfunctional family and the consequences of that dysfunction. At times it is so intense it is difficult to watch.
Reed, who worked in print journalism, covers her story with unflinching honesty and a reporter's eye. Even when the conflict between her and the very volatile brother turns brutal you get the facts and not a lot of emotional spin.
I once hired a film crew to cover a contest where the winner would win $9,800 for performing the strangest feat. The victor was a young man who calmly and methodically bit the heads off 98 fish. The film crew didn't want lunch after the event. More to the point we all got sick again later that week in the editing suite, watching the blood, fish heads and gore-smeared face of the winner.
I have to wonder what the scene was like as Reed and her film crew watched and edited her brother's descent into insanity. That really is what Prodigal Sons turns out to be about. And that scene in the editing room is the only thing left out.
http://www.prodigalsonsfilm.com/
-30-
The Rant D'Jour is about a brilliant idea of mine, and will soon sweep the county. Maybe not.

I think every place in Northeastern Pennsylvania needs…Rant D'Jour
-30-